WISE Waterproof Cork Flooring - Wood Look (CYBER OAK)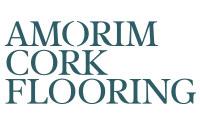 Waterproof Cork Flooring
Realistic Wood Visuals - 20 Wood Looks Available
Prefinished with SRT Finish - Superior Resistance Technology
Wide Plank Floating Floor Solution
Healthy + Sustainable: PVC-Free, Carbon Negative Footprint
7.48" x 48.23" (0.28" or 7 mm thick)
LOW PRICE GUARANTEE!

Purchase
Square Feet/Box: 20.043
Price per Square Foot: $7.15
Product ID : AEYJ001
Downloads
Not sure how many boxes you need?
Enter SQUARE FEET in the box below to automatically calculate

Description


Amorim WISE Waterproof Cork Flooring - Wood Look
A Sustainable Waterproof Floating Floor that Combines the Beauty of Wood with the Performance of Cork.
Get the best of both worlds with Amorim WISE Wood - hyper-realistic visuals of hardwood flooring with all of the cork benefits. WISE Wood is durable, comfortable and healthy cork flooring with a gorgeous wood look layer that's 100% waterproof. It's the cork flooring with no limits - an ideal solution for ALL THE ROOMS, including bathrooms, kitchens, mudrooms and laundry rooms. The engineered multilayer structure with an integrated cork underlay provides walking comfort, year round optimal temperature, noise reduction, and reinforced dimensional stability.
With the Amorim WISE Wood line, you'll find a cork floor created for those who want a sustainable and healthy waterproof floor with the beauty of wood. Now you don't need to choose between a great looking floor or a resilient and comfortable floor, with Amorim WISE Wood flooring you can have both!

Beautiful to See, Comfortable to Walk On.
Cork Rigid Core with Built-In Underlayment
The WISE line features an enhanced, strong
PVC-FREE CORK RIGID CORE
that provides dimensional stabilty without toxic chemicals. You won't find any volatile organic compounds (VOCs) or PVC in WISE cork flooring, unlike most Luxury Vinyl Flooring with rigid or composite cores. The layered construction of WISE also includes a
Cork Underlayment
for extra performance.
Healthy, Low Maintenance Protective SRT Finish
WISE Wood is prefinished with a non-toxic, low maintenance Superior Resistance Technology (SRT) wear layer. No more refinishing like urethane finished cork floors! It provides the floor with a PVC FREE + ZERO-VOC resistance without harmful additives that's even suitable for heavy commercial projects (so you know it will hold up to the busiest of homes). The eco-friendly finish has an impressive long life span with a residential Lifetime Warranty (covers Structural / Wear / Waterproof) and a 10 Year Commercial Warranty.
Plus, WISE cork flooring products are certified under several strict indoor air quality programs such as Greenguard GOLD certification. The certification ensures low chemical emissions in products that are acceptable for use in sensitive environments like schools and healthcare facilities.
Glueless Floating Floor Installation (DIY Install)
The universal 2G locking system requires no glue, which makes installing their cork floors easier than ever and provides extra strong locking performance. If you're looking for a simple DIY installation, the glueless "click" floating cork floor is a perfect fit.
DOWNLOAD INSTALLATION INSTRUCTIONS or view our Amorim WISE 2G installation video below.


Amorim WISE Wood Engineered Layers - 100% Waterproof, Naturally Comfortable, Resistant and Durable
Amorim's Cork Rigid Core (CRC) technology combined with the unique natural properties of cork, provides a flooring that's a great choice for any room in your home.

WISE consists of an engineered multilayer structure which starts with an insulated cork underlay that reinforces cork's natural thermal and acoustic properties, resulting in a quieter environment and all-important energy cost savings. The compressed (or agglomerated) cork layer provides extra comfort, noise reduction, optimal floor temperature all year round and walking comfort. The wood veneer, or decorative wood layer is available in a variety of colors and textures, is protected by the highly resistant finish.


Climate Positive, Carbon Negative
As a world leader of cork flooring, Amorim feels a responsibility and a mission to not only create sustainable products, but to do so while preserving and protecting the cork oak forests as well as the environment as a whole. SUSTAINABILITY isn't just a buzzword - it's at the core of everything they do. Amorim has reached a CO2 negative footprint, meaning that more carbon is removed from the atmosphere than is added during the production of WISE.
Here are some of the ways they're able to help reduce the global warming potential:
DURING HARVEST - No trees are cut down or damaged during cork harvesting. Once the cork bark is carefully removed from the trees without harming them, they actually retain 5 times more CO2 from the atmosphere than before the bark was removed.
DURING PRODUCTION - Any cork waste that occurs from the production of cork bottle stoppers is collected, granulated and compressed to make other products, like cork flooring! And the cork dust is collected and burned to generate energy for the production facilities.
DURING WISE LIFETIME - Amorim WISE Cork Flooring is produced without PVC and several national and international independent third-party certifications ensure that no harmful particles are present (ZERO VOCs).
WISE Wood Benefits - 100% Waterproof Cork Flooring
---


Why Cork?
---

SUSTAINABLE FLOORING
Cork flooring is an incredibly sustainable product. Cork floors are the result of a circular economy model that turns production waste from the cork stopper industry into valuable and sustainable flooring products.
RENEWABLE
Cork is a natural raw material that comes from the bark of the cork oak tree. It's harvested by hand when the tree is 25 years old and every 9 years from then on. No cork trees are damaged or cut during harvesting and the bark regenerates itself after each extraction, making it a near-perfect example of a renewable resource. Cork is also biodegradable and recyclable.
ENDLESS BENEFITS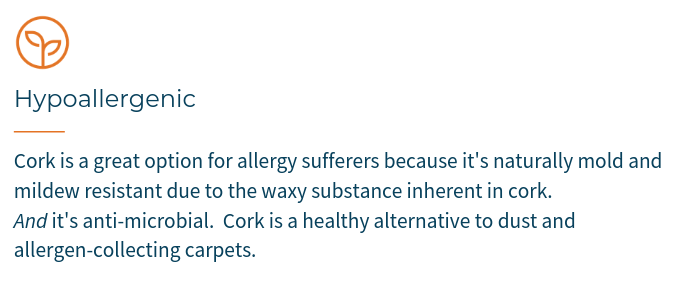 Why Amorim?
---

INDOOR AIR QUALITY and ENVIRONMENTAL IMPACT
Besides its performance factors, Amorim WISE is the Best in Class in indoor air quality, ensuring that no harmful particles are present in their flooring products. This status is confirmed by international certifications such as Greenguard Gold, TUV, LEED, BREEAM and the A+ label (French content rating and VOC emission level). In order to achieve these certifications, Amorim WISE products went through rigorous tests on more than 2000 potential chemicals. They also make sure that their processes and products reflect the highest standards in environmental protection and performance: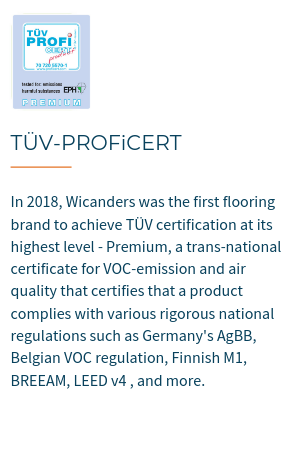 WISE Waterproof Cork Flooring Installation and Maintenance
---

How to Install your WISE Wood Flooring
The WISE 2G Universal Installation floating floor system makes installing WISE flooring easy.
Here are some other things to know about installing WISE Wood or Cork Floors:
BE SURE TO ACCLIMATE - packaged planks should be acclimated at the job site in a dry, well-ventilated area for a minimum of 24 hours at a temperature between 65º F and 82º F.
MINIMAL SUBFLOOR PREP - WISE Wood can be installed on top of existing hard surfaces, avoiding the need to remove the existing floor (never install WISE on top of carpet, carpet tiles, or other soft floors).
DIMENSIONALLY STABLE - the Cork Rigid Core provides reinforced dimensional stability so that it can be installed in very large areas (up to 3,200 square feet) without the need for transition strips.
An INTEGRATED CORK UNDERLAYMENT is included for extra comfort
VERY LITTLE VISUAL REPETITION - The WISE Wood look pattern repeats every 9 planks, but then the pattern is offset when it's repeated. So you're not going to notice it as you do with other resilient "wood look" flooring.
DOWNLOAD WISE WOOD INSTALLATION INSTRUCTIONS (AS FLOATING) or view our Amorim WISE 2G installation video below.
DOWNLOAD WISE WOOD INSTALLATION INSTRUCTIONS (AS GLUE DOWN)


How to Maintain Your WISE Wood Flooring
Amorim WISE Wood floors are a cinch to maintain. Simply sweep up any debris or loose dirt with a broom or a vacuum before wiping the floor with a mop. For general spills, you can also use a broom handle with a cloth at the end. For deeper cleaning, use a mild pH-neutral cleaner.

DOWNLOAD AMORIM WISE MAINTENANCE GUIDE
How to Repair Your Amorim WISE 2G Floating Floor
You have a couple of options here. You can repair the floor by removing only the damaged plank or you can choose to uninstall all the planks until you reach the damaged one.

DOWNLOAD THE REPAIR INSTRUCTIONS for both methods or view the Amorim WISE "How to Repair" video.

Features
WATERPROOF - WISE resilient flooring features a waterproof Cork Rigid Core so you can confidently install it in any interior space, including bathrooms, kitchens, mudrooms, and laundry rooms without worry.
SUSTAINABLE - from cork harvest to the green production process, WISE is Climate Positive with a Carbon Negative Footprint.
HEALTHY - PVC FREE Rigid Core + Numerous Indoor Air Quality standards certify that no harmfull particles are present.
QUIET - Cork is an excellent sound absorber and reduces walking sound up to 53%.
OPTIMAL TEMPERATURE - The natural thermal insulation inherent in cork provides an optimal floor temperature for a more comfortable environment all year round.
WALKING COMFORT - Cork is the most comfortable flooring to walk on, especially in bare feet. Softer than wood, yet harder than carpet, cork also relieves leg and back stress.
IMPACT RESISTANCE - The natural properties of cork include elasticity and compressibility, for the highest shock absorbing performance of any floor.
DIY "CLICK" INSTALL - Universal Installation System allows for an easy DIY installation as a click (or glue down for a more permanent installation).
PLANK DIMENSIONS: 7 31/64" x 48 15/64" Planks | 9/32" (7mm) thickness | 20.04 sf/carton
DURABLE, RESISTANT FINISH - SRT - Superior Resistance Technology, low maintenance finish provides high mechanical strength and stain resistance. Suitable for kids and pets in a family home, or the high traffic of a commercial space.
NO NEED TO REFINISH - No more refinishing like urethane finished cork floors
DIMENSIONALLY STABLE - the Cork Rigid Core adds reinforced dimensional stability so installation in large areas (up to 3,200 square feet) is possible without the need for transition strips.
SEAMLESS VISUAL - No expansion joints in between rooms
INTEGRATED CORK UNDERLAY - for extra cork benefits and performance
EASY TO CLEAN (MOP FRIENDLY) - simply vacuum or sweep up debris or feel free to use a mop for deeper cleaning.
SUITABLE FOR ALL ROOMS: Kitchen, family room, bedroom, basement, dining room, playroom, hallway, office, bathroom, laundry, mudrooms
MOLDINGS AND TRIMS ARE AVAILABLE TO COORDINATE - PLEASE CALL 1-800-674-1157 FOR DETAILS!
Specs
Collection
WISE Wood by Amorim Waterproof Floating Plank Floor
Finish
SRT (Superior Resistance Technology) Scratch and Stain Resistant Finish
Construction
Engineered Floating
Installation Method
2G CorkLoc Floating Glueless Installation
Warranty
Limited Lifetime Residential
Warranty 10 Year Commercial Warranty