Wicanders Dekwall Cork Wall Covering - Bamboo Artica
Cork Wall Coverings with Protective Finish (Wax or Varnish)
Dimensions: 23-5/8" x 11-13/16" x 1/8" thick Tiles
Packaging: 11 Tiles / Pack covers 22 Sq Ft
Glue Down (Contact Adhesive to Wall and Tiles)
Purchase
Square Feet/Box: 22
Price per Square Foot: $3.99
Product ID : dekwall_bamboo_artica
Downloads
Not sure how many boxes you need?
Enter SQUARE FEET in the box below to automatically calculate

Description
Wicanders Dekwall - Cork Wall Covering
Unique Walls with the Comfort of Cork
Wicanders Dekwall is cork wall paneling in the form of individual 12"x 24" glue-down genuine cork tiles protected with a healthy (non-toxic, low-VOC) wax or varnish finish.

Like their flooring line, Dekwall also features Wicanders' unique engineered multilayer structure. Their state-of-the-art Corktech technology combined with the natural properties of cork provides you with all the benefits that distinguish the Wicanders' products such as warmth, noise reduction, sustainability and durability.
Dekwall Benefits:
Warm
Silent
Sustainable
Natural Beauty
Unique and Stylish Designs
Healthy, Low Maintenance Protective Finish
For increased protection, Dekwall BAMBOO ARTICA is prefinished with a non-toxic, low maintenance varnish finish which provides the wall covering with a LOW-VOC resistance without harmful additives.
Plus, Dekwall is certified under the strict French indoor air quality program and received an A+. The certification ensures low chemical emissions in products and classifications range from A+ (very low emissions) to C (high emissions).
Wall paneling created for those who want sustainability AND natural beauty, Dekwall cork walls add warmth and style to any room. Cork is also a natural sound absorber, reducing noise between and within rooms, creating a quieter, cozy environment.
Corktech Benefits - More Than Just a Beautiful Wall Covering
Wicanders' Cork technology combined with the natural properties of cork, provides the perfect match between beauty, comfort and durability.
3 LAYER CONSTRUCTION
Corktech uses an engineered multilayer structure that consists of a quality core layer of cork and a genuine cork veneer.
1. The thicker layer, made with agglomerated cork, is used as backing and provides:
Superior comfort
Noise reduction
Warmth
2. On top of the thicker core is a thin sheet of cork, a decorative veneer that's created by combining unique textures and shapes of natural cork.
3. For increased protection, the veneer is coated with a protective finish of either wax or varnish:
1) Cork Agglomerate Core




2) Genuine Cork Veneer




3) Protective Finish (Wax or Varnish)
Wicanders 'Corktech' Benefits - Cork is Comfort
---

Why Cork?
---

SUSTAINABLE WALL COVERING
Cork is an incredibly sustainable product. Cork wall tiles are the result of a circular economy model that turns production waste from the cork stopper industry into valuable and sustainable flooring and wall covering products.
RENEWABLE
Cork is a natural raw material that comes from the bark of the cork oak tree. It's harvested by hand when the tree is 25 years old and every 9 years from then on. No cork trees are damaged or cut during harvesting and the bark regenerates itself after each extraction, making it a near-perfect example of a renewable resource. Cork is also biodegradable and recyclable.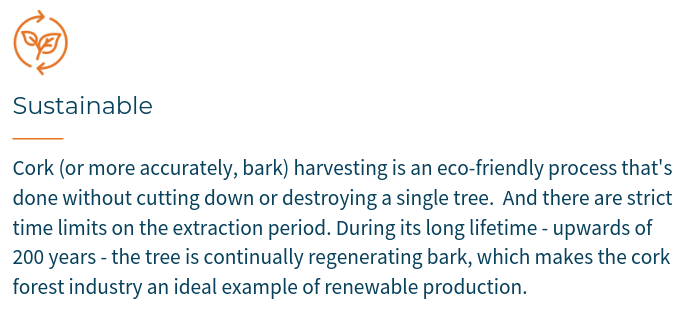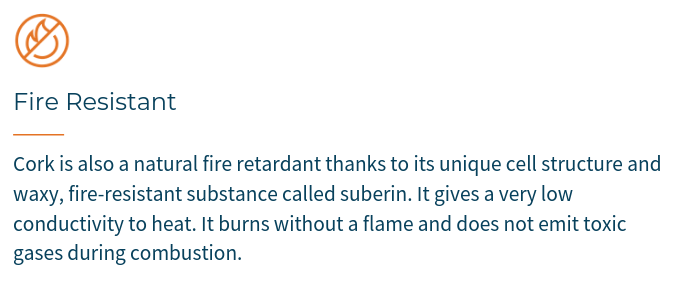 Why Wicanders Cork?
---

INDOOR AIR QUALITY
Wicanders cork products are certified under several strict indoor air quality programs that ensure that no harmful particles are present in their flooring products: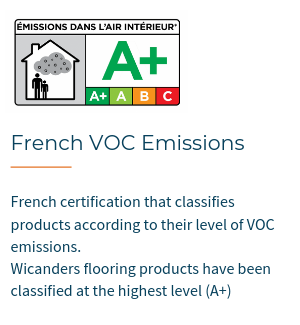 Wicanders Dekwall Installation and Maintenance
---

How to Install your Wicanders Glue-Down Dekwall Cork Wall Tiles
Install Dekwall using a contact adhesive applied to both the tiles and the substrate. For easy-to-follow instructions, see below.
DOWNLOAD INSTALLATION INSTRUCTIONS


How to Maintain Your Cork Wall Covering
Wicanders Cork is a cinch to maintain. Simply wipe the wall with a damp (not soaking wet) cloth or use a vacuum cleaner attachment. For deep cleaning, use a mild pH-neutral cleaner.


How to Repair a Damaged Glue-Down Cork Wall Tile
The following tools and materials are required in order to remove a tile from an installed area: knife, chisel, trowel, scraper, leveling compound, and adhesive.
DOWNLOAD THE DETAILED REPAIR INSTRUCTIONS

Features
Dimensions: 11.81" x 23.62" Tiles | .12" thickness | 21.31 SF/carton
Glue down installation
Wax or Varnish wear layer finish adds more resistance
Water-based binding agent: no harmful solvents used
Integrated insulating cork core layer
Suitable for: Kitchen, family room, bedroom, basement, dining room, playroom, hallway, office


MOLDINGS AND TRIMS ARE AVAILABLE TO MATCH - PLEASE CALL 1-800-674-1157 FOR DETAILS!
Specs
Collection
Wicanders Dekwall Cork Wall Covering
Installation Method
Glue-Down Installation
Carton Size
11 wall tiles / carton