Cork PURE 4 mm Glue Down Cork Flooring - Originals Accent
Prefinished Glue Down Cork Flooring
Traditional Glue Down Solution
XTRAMATT+ High Resistance Acrylic UV Finish
12" x 24" (5/32" or 4 mm thick)
LOW PRICE GUARANTEE!

Purchase
Square Feet/Box: 21.31
Price per Square Foot: $4.99
Product ID : WIC80002647
Downloads
Not sure how many boxes you need?
Enter SQUARE FEET in the box below to automatically calculate

Description


Cork PURE - Traditional Glue Down Cork Flooring
A High Performance Surface Finish + Glue Down Installation
The Cork PURE line features the XTRAMATT+ surface finish, an eco-friendly Acrylic UV finish that is perfect for high-traffic areas of your home, or those rooms where more dirt is tracked in - think entryways and mudrooms, or hallways off the front and back doors. Glue-down cork tiles are also ideal for potentially wetter areas like bathrooms with showers, kitchens, or laundry rooms. No need to apply additional finish!

The Pure line is a traditional glue-down cork flooring solution that features Amorim's unique multilayer structure - two layers of solid cork and a protective surface layer. Their state-of-the-art Corktech technology combined with the natural properties of cork provides you with all the benefits that distinguish their products such as walking comfort, step sound reduction, and impact resistance.
With Amorim's Cork PURE line, you'll find a glue-down cork floor created for those who require a protective surface with exceptional strength and durability for high-traffic areas in the home.

Features
XTRAMATT+ Surface Finish ensures exceptional strength and longevity
Dimensions: 12" x 24" Planks | 5/32" (4 mm) thickness | 21.31 SF/carton
Glue Down Installation
No more refinishing like urethane-finished cork floors
Exterior Edges sealed to protect against moisture
Integrated insulating cork underlay
Suitable for all areas in your home including the kitchen, bathroom, laundry rooms, family room, mudroom, entry-ways, and hallways
MOLDINGS AND TRIMS ARE AVAILABLE TO MATCH - PLEASE CALL 1-800-674-1157 FOR DETAILS!
Healthy, Low Maintenance Protective Finish
The Cork PURE line is prefinished with a non-toxic, low-maintenance XTRAMATT+ High Resistance Acrylic UV finish based on a ceramic compound. No more refinishing like urethane-finished cork floors! It provides the floor with a ZERO-VOC resistance without harmful additives that fit the most demanding needs of your home as well as commercial areas with moderate traffic.
The eco-friendly finish carries a 10-year residential warranty and a 10-year commercial warranty.
Plus, Amorim's cork flooring products are certified under several strict indoor air quality programs such as Greenguard GOLD certification. The certification ensures low chemical emissions in products that are acceptable for use in sensitive environments like schools and healthcare facilities.
Glue Down Floor Installation
Cork PURE Glue Down Cork tiles can be installed on concrete or wooden subfloors. Glue-down flooring tiles require the use of a water-based contact adhesive that's applied to both the cork tile and the subfloor. Prior to installation, store cork planks at room temperature for at least 48 hours in their packaging.
DOWNLOAD INSTALLATION INSTRUCTIONS or view our Glue Down cork flooring installation video below.


Corktech Benefits - Natural Comfort and Durability
Amorim's
Corktech
technology combined with the unique natural properties of cork, provides a higher standard of flooring. It's really the perfect match between beauty, comfort, and durability.
Corktech uses a multilayer structure that starts with a compressed (or agglomerated) cork layer that provides superior comfort, step sound reduction, and warmth. The cork veneer, or decorative cork layer, is created by combining various shapes of natural cork to achieve a pattern full of personality. The cork veneer is available in a variety of colors and patterns and is protected by a highly resistant finish.
Cork PURE Benefits - Cork is Comfort
---

Why Cork?
---

SUSTAINABLE FLOORING
Cork flooring is an incredibly sustainable product. Cork floors are the result of a circular economy model that turns production waste from the cork-stopper industry into valuable and sustainable flooring products.
RENEWABLE
Cork is a natural raw material that comes from the bark of the cork oak tree. It's harvested by hand when the tree is 25 years old and every 9 years from then on. No cork trees are damaged or cut during harvesting and the bark regenerates itself after each extraction, making it a near-perfect example of a renewable resource. Cork is also biodegradable and recyclable.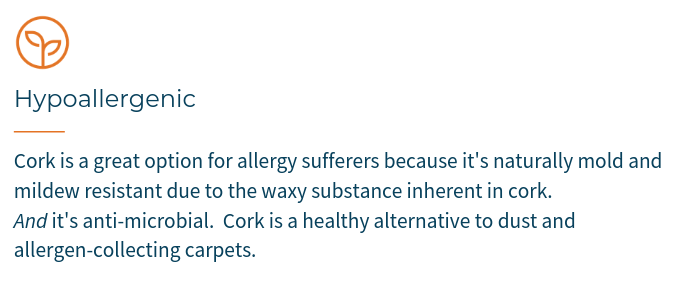 Why Amorim Glue Down Cork Flooring?
---

INDOOR AIR QUALITY
Amorim's cork flooring products are certified under several strict indoor air quality programs that ensure that no harmful particles are present in their flooring products: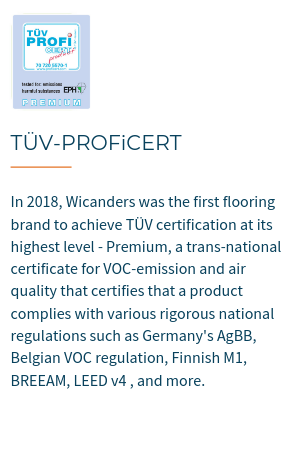 ENVIRONMENTAL IMPACT
Respect for nature is at the core of Amorim's cork flooring products. They make sure that their processes and products reflect the highest standards in environmental protection and performance:


Cork PURE Flooring Installation and Maintenance
---

How to Install your Cork PURE Glue Down Flooring
DOWNLOAD INSTALLATION INSTRUCTIONS and view our PURE Glue Down cork flooring installation video below.


How to Maintain Your Cork Flooring
Cork flooring is a cinch to maintain. Simply sweep up any debris or loose dirt before wiping the floor with a damp (not soaking wet) mop or use a vacuum cleaner. For general spills, a damp mop will do the trick. For deep cleaning, use a mild pH-neutral cleaner.

DOWNLOAD OUR CORK FLOORING MAINTENANCE GUIDE
How to Repair Your Glue Down Cork Floor
You can repair the floor by removing only the damaged plank.
DOWNLOAD THE REPAIR INSTRUCTIONS for glue down cork flooring
Specs
Collection
Cork Pure Traditional Glue Down Floor
Sq Ft per Box
21.31 SF / BOX
Finish
XTRAMATT High Performance Finish
Construction
Engineered Multilayer Construction
Installation Method
Glue Down Installation
Warranty
10 Year Residential Warranty
10 Year Commecial Warranty